Endless Possibilities in Decoration
Pladur® systems offer high performance with an excellent finish and freedom in design.
Mouldings, changes in level and curves can all be easily produced thanks to the combination of materials and fast and simple execution. Suitable for both new buildings and reform work, when looking to create a striking appearance with the highest quality.
Domes, ceilings and curved partitions
With Pladur, you can make the curved shapes in your design a reality. Pladur laminated plasterboards permit clean and dry construction of curved shapes in ceilings and partitions and the addition of decorative touches quickly, easily and safely.
Ceiling design
Free your imagination by combining perforated ceilings with smooth areas to create different atmospheres, offering both design and comfort at the same time.
Diversity of shapes
Work with changes of level in the ceiling, with smooth and perforated zones, using different materials to create a unique ambience.
Simulate mouldings and perimeter shapes; the only limit is your imagination.
Smooth surfaces
If you are using flush lighting or bold colours, you need a perfect surface.
Although the finish provided by laminated plasterboard is smooth and suitable for most applications, in some cases where lighting or decoration is more demanding, you need a final coating to smooth out the surface and provide the perfect finish. This finish is termed Q4 and is obtained using Pladur® Perfect compounds.
If you need to repair or smooth your walls, Algíss® Cristal provides a range of products for that perfect finish.
Design and functionality
With Pladur® Decor you can build drop ceilings for easy maintenance and access to installations, while providing an excellent aesthetic finish.
Placa Pladur® N 6.5
Placa Pladur® N 6.5
Base board on which skim plastering using a suitable gypsum plaster or ornamental finish can be applied to its surfaces.
Ceiling FON+ C3-8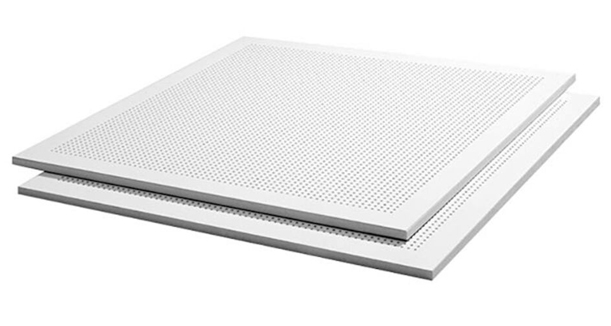 Ceiling FON+ C3-8
Pladur® FON+ improves acoustic comfort in all premises where it is installed.
Ceiling FON+ Tweed
Ceiling FON+ Tweed
For spaces requiring acoustic conditioning treatment or a distinctive decorative touch.
Pladur® Flexiform
Pladur® Flexiform
For surfaces that require curved shapes and need to be adapted to different designs.