Resistance to humidity
Water vapour production in a building depends on the number of occupants, room use, ventilation and the heating system.
High levels of humidity can be the cause of numerous problems, such as mould, condensation and poor air quality, which affect occupants' health and the sustainability of the building.
Pladur® provides solutions to maintain excellent performance in areas of high humidity:
Its water-resistant boards, which maintain their properties in the presence of humidity (Pladur H1, Omnia, Ultra L-Tec H1, Magna H1, Cementex).

The quality of the system components and their protection (galvanised profiles, watertight seals, etc.),
And the recommended assembly method, all of which guarantee watertight sealing and protection of the components to ensure the good performance and qualities of the system (Wall lining panels, partitions and ceilings)
Type

s

of premises by degree of humidity
| | | |
| --- | --- | --- |
| Classification | Requirements | Examples |
| Low humidity | Water is only used for cleaning, but never sprayed. | Bedrooms, lounges, halls, classrooms. Rooms in homes, hospitals, hotels and offices |
| Medium humidity | Water is used for maintenance and cleaning, but never as a pressurised jet. Water may be sprayed as steam, but only sporadically. | Private kitchens, toilets, showers and bathrooms. Porticoes and semi-outdoor conditions |
| High humidity | Water is sometimes present at low pressure streams ≤ 60 atm It may also sporadically be present as steam over long periods indoors. | Shared sanitary facilities and kitchens. Shared, non-industrial laundry rooms. |
| Very high humidity | Water is present, practically systematically, in liquid form or as steam. High pressure water jet cleaning is permitted. | Aqua parks, swimming pools, shared bathrooms and showers. Dairies and industrial laundries. |
Water Resistant Boards
Pladur provides water resistant solutions which maintain their qualities in the presence of humidity:
- Low humidity: Pladur N
- Medium humidity: Pladur H1, Pladur Omnia, Pladur Magna H1
- High humidity and very high humidity: Pladur Cementex
Humidity protection for materials.
Pladur profiles and metal accessories have protection to match their exposure to humidity.
Installation recommendations in humid zones
In medium to high humid zones, a number of installation recommendations should be taken into account that affect:
Use of H1 boards

Special provisions in the partition base

Modulation between profiles

Special protection provisions in areas with bathtubs, shower pans and other bathroom fittings likely to be affected by water.
Pladur® Magna H1 13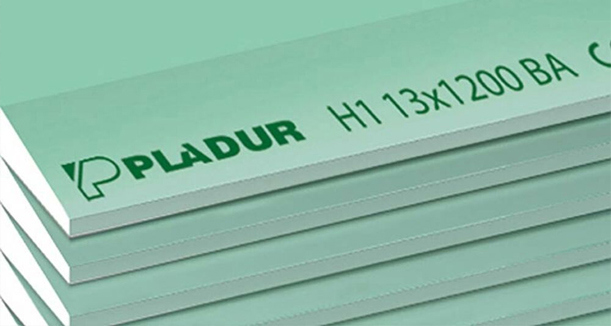 Pladur® Magna H1 13
Reinforced plasterboard with additives that reduce water absorption capacity.
Pladur® Omnia 13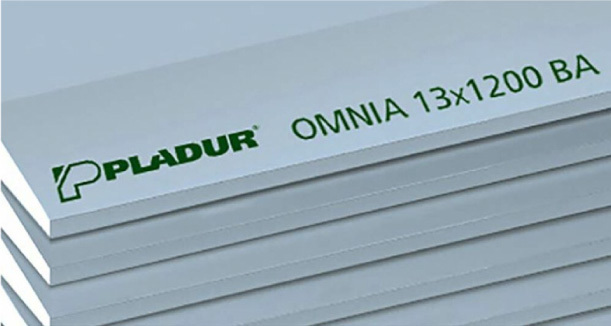 Pladur® Omnia 13
Greater impact and fire resistance, better insulation against airborne noise and good resistance to humidity.
Pladur® Magna H1 25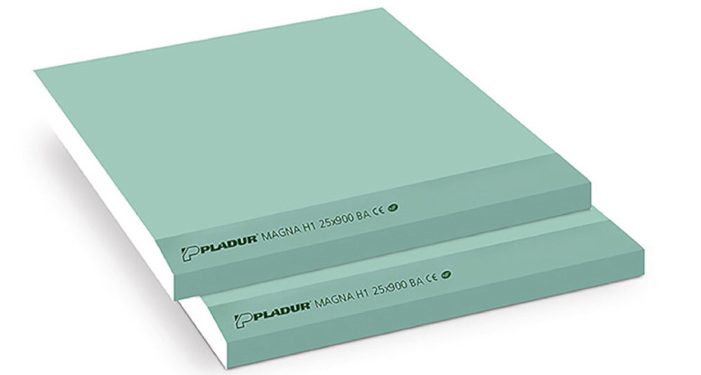 Pladur® Magna H1 25
Reinforced plasterboard that offers high resistance and on site efficiency, as well as maximum certified fire resistance.
Pladur® Ultra L-Tec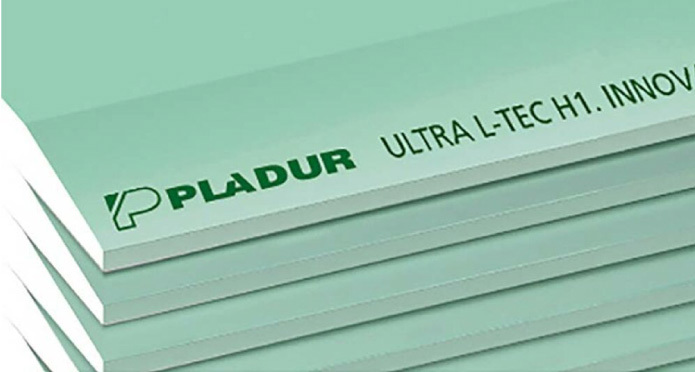 Pladur® Ultra L-Tec
Laminated plasterboard for the configuration of continuous ceilings. Designed to facilitate installation and increase on site efficiency.