Mechanical Resistance
Pladur partition walls, wall lining panels and ceilings meet all the strength requirements for daily use, for both impact and load resistance.
Surface hardness
Surface hardness requirements for plaster boards are defined in reference Standard NF EN 520.
The characterisation test consists of throwing a calibrated ball at the board and measuring the diameter of the resulting impact:
Standard boards have an impact of less than 20 mm.
The "extra hard" boards have an impact of less than 15 mm and are therefore considered standard NF EN 520 Class I.
The "ultra hard boards" have an impact of less than 13 mm.
Impact
A partition wall must withstand two kinds of impact:
-Hard impact: this consists of measuring the surface mark left by a steel ball, on hitting the partition surface.
-Soft impact: this consists in measuring deformation to the partition after a series of impacts with a standard-sized sack with a mass of 50 kg.
Pressure
Pladur partition walls are designed to withstand a distributed force of 0.20 kN/m2, with a deflection less than or equal to 5 mm
Loads
These are divided into level loads and eccentric loads.
Standard UNE 102043, Assembly of Laminated Plasterboard Systems, defines the maximum values and application conditions for both level and eccentric loads.
These are loads involving objects that do not jut out and thus only exert downward pressure.
Surface Indentation
Measures the ability of a gypsum panel to resist dents caused by small, hard objects by exposing the panel to the impact of a round-tipped rod.
Based on the depth of the indentation the impact causes, the board is assigned to one of three classification levels.
The maximum load value per point without reinforcement is 30 kg/point.
The study on Solidtex systems carried out by Tecnalia justifies the use of higher loads depending on how the partition wall is configured.
Eccentric Loads
These are loads that jut out from the wall or that have a large volume. The centre of gravity of the load is separated by a distance (e) from the partition on which the fixings are located, producing a leverage force on it, in addition to its own weight.
There must be at least two fixings per element.
Standard UNE 102043 defines maximum load values in relation to eccentricity for light loads.
High Load Resistance Solutions
Solidtex systems are reinforced to withstand high level and eccentric loads. They are also extra hard, providing resistance to rubbing and impact, thereby reducing maintenance requirements.  
Vandal-P

roofing Solutions
- High Security Partition Walls: These are partitions with a steel sheet bolted(sugerencia, screwed) to their structure, providing greater strength against theft and vandalism.
- Solidtex partitions: Solidtex partition systems have level RC2 rating, based on tests carried out with static and dynamic loads, and manual approach, pursuant to Standards EN 1627:2011, EN 1628:2011 and EN 1630:2011.
Pladur CH lift shaft wall systems.
 These are specially designed systems for shaft walls, which are installed on just one side of the partition.
The Pladur CH system has been tested in line with the specifications indicated in section 5.2.1.8.2 of Standard UNE 81-20:2017. The results conclude that the tested samples meet the resistance and deformation requirements indicated in this section of the standard. The tests were performed in conjunction with IETcc to a height of 4.5 m (report no. 22.137-I).
Placa Pladur® I 15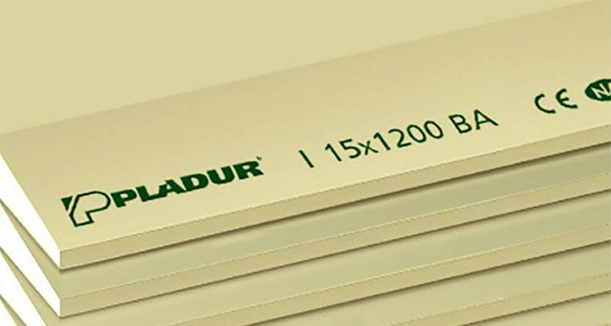 Placa Pladur® I 15
Laminated plasterboard for applications that require greater surface hardness.
Pladur® Omnia 13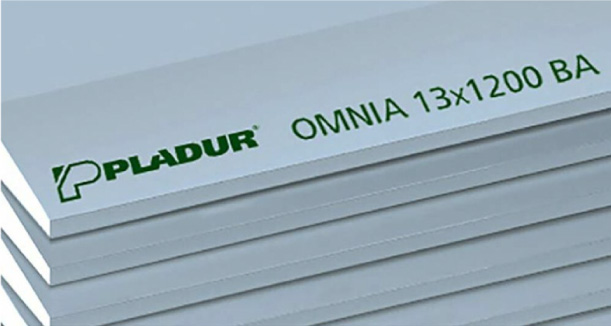 Pladur® Omnia 13
Greater impact and fire resistance, better insulation against airborne noise and good resistance to humidity.
Pladur® Omnia 15
Pladur® Omnia 15
Greater impact and fire resistance, better insulation against airborne noise and good resistance to humidity.
Pladur® Magna 18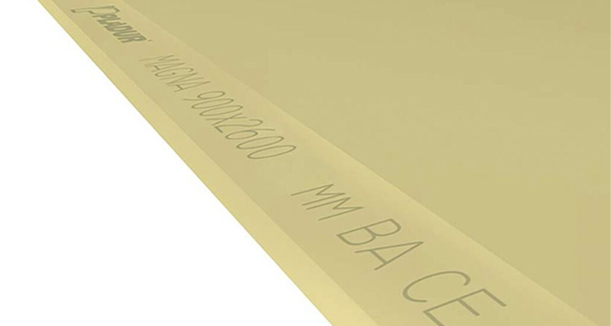 Pladur® Magna 18
High resistance and efficiency laminated plasterboard that offers the maximum certified fire resistance.