Designed for ceilings
Laminated plasterboards specially designed for application in continuous ceilings. This category includes lightweight boards and boards with four tapered edges to facilitate ceiling installation.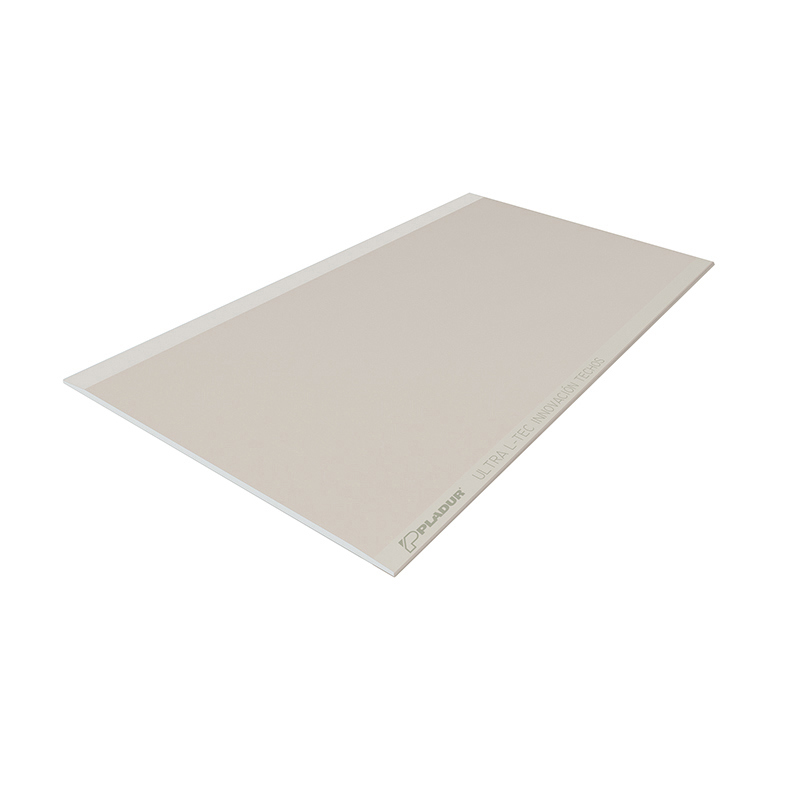 Pladur Board Ultra L-Tec H1
Laminated plasterboard, type H1 (humid premises) and ultra-light technology (low weight), in green. Dimensions 13 x 1200 mm Tapered edges (BA).
Synia Board 4BA
Laminated plasterboard, type A (standard applications), in light grey. Dimensions 13 x 1200 mm Four Tapered Edges (4BA).
Placa de Yeso Pladur®
Fabricadas atendiendo al más alto nivel de exigencia y bajo el cumplimiento de los requisitos de las normativas europeas en vigor (EN 520, EN 15283, EN 13950, EN 14190, EN 13915), las placas de yeso Pladur® son sometidas a rigurosos y exhaustivos controles de calidad para satisfacer las necesidades de los mercados más exigentes, tanto a nivel nacional como internacional.
Son parte integral de los Sistemas Pladur®, cuyas características técnicas son avaladas por numerosos en-sayos (resistencia al fuego, resistencia mecánica, aislamiento y absorción acústicos y aislamiento térmico), se ponen a disposición de los clientes. Únicamente el uso conjunto de productos originales Pladur® garantiza el cumplimiento de los resultados obtenidos en dichos ensayos.
Su compromiso con la calidad queda también reflejado en la obtención de diversos sellos de calidad, nacionales o internacionales (marcado N o NF), que pueden consultarse, así como las correspondientes declaraciones de prestaciones CE, en Medio Ambiente.