Environment
Pladur® is committed to sustainable construction and protecting the environment.
Pladur® is committed to sustainable construction and protecting the environment. Most issues related to the environment, sustainability, life cycles, recycling and similar are handled in close conjunction with specialist organisations, with the aim or facilitating sustainable construction (environmental impacts, building adaptability and so on), and working for the comfort and safety of all (by reducing emissions and pollutions, among other measures).
ISO 9001 certification
At Pladur® we comply with the ISO 9001 standard on quality management systems, which provides the necessary infrastructure, procedures, processes and resources to help organisations to control and improve their performance and drive them towards efficiency, customer service and product excellence.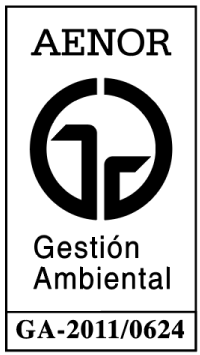 ISO 14001 certification
The ISO 14001 standard is the international standard on environmental management systems, which helps us to identify, prioritise and manage the environmental risks in all the habitual activities we carry out.
Indoor Air Quality
The European regulations limit the emissions of volatile organic components (VOCs) into the atmosphere. To this end, marketing within the European Union any product with a VOC value higher than the permitted maximum is limited.
Very specific labelling rules are also established, to facilitate verifying the legality of products.

At Pladur® we issue certificates with the necessary information on the emission level of these volatile substances into the interior air which present a risk of toxicity by inhalation, on a scale ranging from A+ (very low emissions) to C (high emissions).

The limit values of the classes in regard to emissions refer to the total VOC emissions and to the assessment of 10 singular substances (in μg/m3). The A+ qualification is the highest level of certification. The basis of the test is the ISO 16000 standard and the number of the certified test is G22226.
Environmental product declaration
The Environmental Product Declaration (EPD) is drawn up in accordance with the requirements of current European standards. It is a standard document verified by third parties that provides information on the environmental impact of a product throughout its life cycle. Products with the EPD comply with International Standard EN ISO 14025.

The EPDs of construction products cannot be comparable if they do not comply with the EN 15804+A1 standard, which defines in its section 5.3, "Comparability of EPDs of construction products," the conditions in which construction products can be compared, on the basis of the information provided in the EDP.
LEED AND BREEAM® Certification
LEED and BREEAM® are the two most common certifications in Spain for assessing the sustainability of projects and buildings on the basis of environmental categories. They assess environmental efficiency on the basis of the life cycle of buildings and define the rule of what constitutes a sustainable building in terms of design, construction and operation. Both certifications are used to assess both new and existing buildings and for all construction typologies.