PLADUR® DRY PARTITION SOLUTIONS, ONLY BENEFITS
If you're thinking about refurbishing your home, use Pladur®, a quick and clean high-performance solution.
Quick and clean to install
The Pladur® range consists of industrialised, modular dry partition systems installed using Pladur® boards, profiles and accessories, in line assembly recommendations. In other words, they are quicker to install and faster drying. The properties of the installed systems are fully guaranteed by product and system certifications.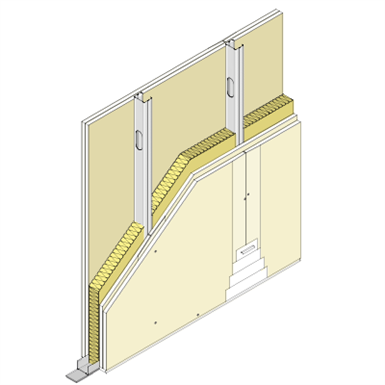 Acoustic insulation
Pladur partitions and ceilings provide highly efficient acoustic insulation, thanks to the design of their components and the mass-spring-mass effect, reducing noise transmission from one room to another to offer maximum comfort. Did you know that most cinemas are built using laminated plasterboards, such as Pladur®?
Thermal insulation
With Pladur® cladding you can heat or cool your home more quickly thanks to the combination of high thermal insulation and minimal thermal inertia. The low thermal inertia in Pladur® boards means no energy is used to heat/call walls, just of the interior of the room, while making it easier to regulate indoor temperatures.
Surface resistance and hardness
If you need greater resistance to impact and rubbing, Pladur® has solutions to meet the most demanding requirements (Pladur I, Fonic, Omnia and Cementex).
Our high performance boards for assembling Pladur® systems
Pladur® Omnia is an excellent all-purpose board: greater acoustic insulation, high surface hardness and greater fire resistance; suitable for use in humid rooms such as bathrooms and kitchens. Premium quality for simpler building work.
Pladur® Cementex, the new Pladur® cement board, combines high resistance to humidity with exceptional mechanical resistance.