Durable spaces thanks to robust Pladur® Solidtex solutions
In all sectors, whether they are residential building, non-residential or refurbishment, the robust solutions Pladur® provides allow greater wall durability, less maintenance and saving on repairs.
Solidtex solutions achieve this thanks to exceptional mechanical properties: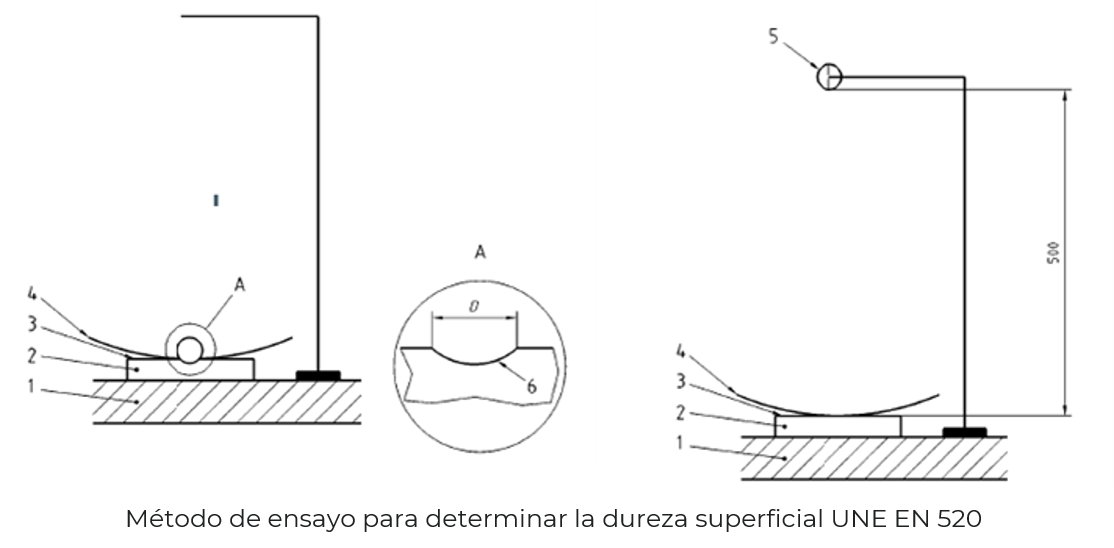 Extra hard surface.
Surface hardness is the resistance bodies have to physical alterations such as penetration and scratching.
Boards with extra hard surfaces are those classified as "I" to standard EN 520.

To do so, they must obtain a diameter equal to or less than 15 mm according to the surface hardness test to standard EN 520.

The test consists of letting the board fall on a steel ball with a diameter of 50 mm and 510 ±10 gr mass from a height of 500 ±5 mm. The diameter of the trace the ball has left on the board is then measured. ****
Improved resistance
Boards with a higher resistance to breaking loads both along their length and breadth.
Improved resistance boards are those classified as "R" to standard EN 520.

To that end, they must obtain a breaking load above 300 N transversally and 725 N longitudinally for a board with a thickness of 12.5 mm, in a flexion resistance test to standard EN 520.

The test consists of placing test piece boards with a dimension of 300 x 400 mm under a load that is increased in a controlled way to breaking point.
Less deformation under loading
The rigidity of a board is measured by the Young module or elasticity module. This parameter is a constant that relates the traction or compression effort to the respective increase or decrease in length of an object subject to these forces. The longer the elasticity module, the less a board is deformed under effort and the more rigid it is.
Solidtex has a longitudinal Young module of >7 000 N/mm2 and a transversal one of 5400 N/mm2, nearly three times more rigid than a standard board.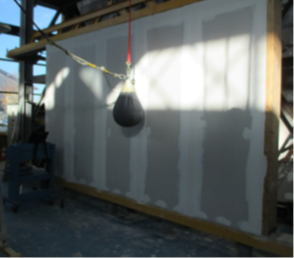 High impact resistance
Partitions and cladding must absorb the usual thrust, blows or bumps under normal conditions of use. In some situations, a greater resistance is required than specified for more robust systems.
Different tests are used to verify impact resistance:
Hard impact: this consists of measuring the surface mark left by a steel ball, on hitting the partition surface.

Soft impact: this consists in measuring deformation to the partition after a series of impacts with a standard-sized sack with a mass of 50 kg. The sack is dropped from different heights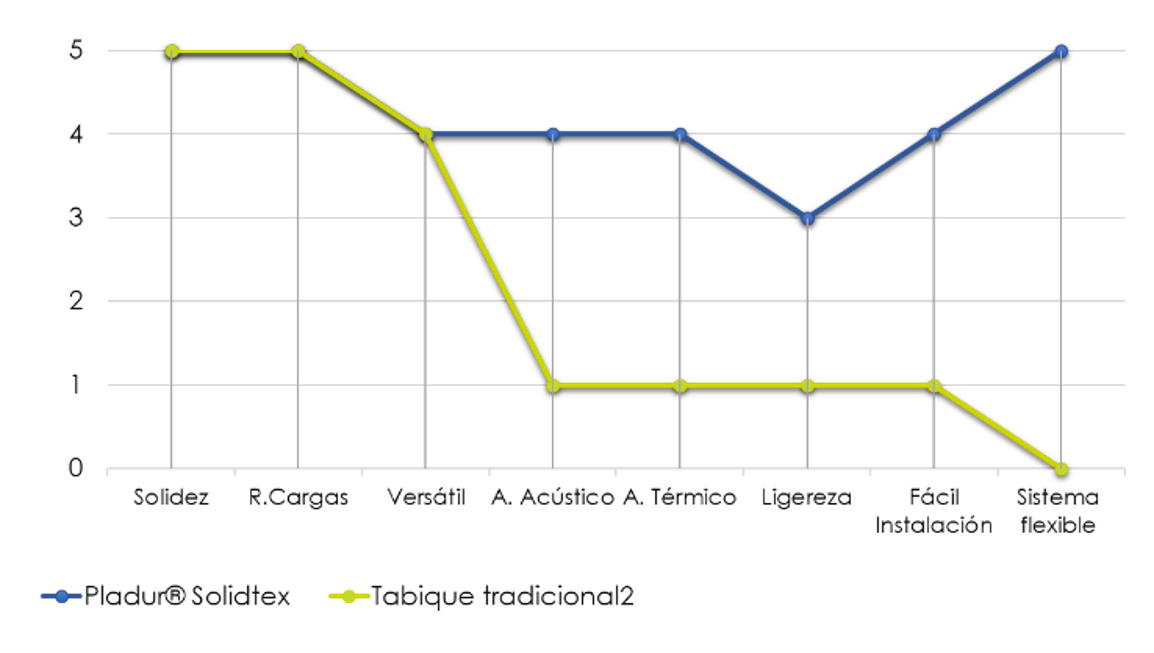 The key is the system
Solidtex combines boards with high resistance and mechanical rigidity along with a flexible construction system, which allows us to achieve systems:
Robust and flexible, that absorb great impact without structural or functional damage.

With high load resistance.

Versatile, as Solidtex is a type H1 water resistant board to EN 520, fit both for dry as well as humid areas.

High standard of acoustic insulation, thanks to its massive scale and the mass-spring-mass principle of laminated plasterboard systems.

High thermal insulation, as the whole chamber is filled with mineral wool.
High thermal insulation, as the whole chamber is filled with mineral wool: **lightness and easy installation. **.
The following graph shows a value curve of the different features of Solidtex systems compared with traditional brick systems.
ROBUST
High impact resistance

Extra hard surface

Less deformation under loading

Greater anti-burglary security (level 2 to standards EN 1601, 1602, 1603)
.
Greater anti-burglary security (level 2 to standards EN 1601, 1602, 1603)
Easy, quick, clean, dry installation

High Acoustic and Thermal Insulation

Light, without excess burden on the frame

Flexible system, absorbs structural deformations of the building

Quality finish (flatness)